Tauber valley wine country
From Rothenburg ob der Tauber to Wertheim am Main
The Tauber Valley wine country extends from Rothenburg ob der Tauber to Wertheim am Main. Over a stretch of about 100 km the Tauber traverses this region in a northwesterly direction and is the continuous companion of vineyards in the charming surrounding river valley.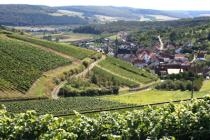 In the Tauber valley, about 1100 hectares are under cultivation by wine-growers and vine dressers. About 65 percent is planted with white wine types and 35 percent with red wine types.

Three wine-growing areas meet at the Tauber, two wine-growing zones and two federal states. The middle Tauber valley with the area around Lauda-Königshofen belongs to the winegrowing area of Baden, the Tauber Franconia area. This region is further distinguished by its qualification for filling high-quality and prestigious wines in the world-renowned Bocksbeutel bottle.
| Members | | Wine-growing area: |
| --- | --- | --- |
| Becksteiner Winzer eG | Lauda-Königshofen (Beckstein) | Baden |
| Stadtverwaltung | Lauda-Königshofen | |
| Weingut Baumann | Lauda-Königshofen (Gerlachsheim) | Baden |
| Weingut Benz | Lauda-Königshofen (Beckstein) | Baden |
| Weingut Günther | Lauda-Königshofen (Gerlachsheim) | Baden |
| Weingut Sack | Lauda-Königshofen (Lauda) | Baden |
| | | |
| Weinort Tauberzell | Adelshofen | Franconia |
| Weingut Schurk | Bad Mergentheim (Markelsheim) | Württemberg |
| Weingärtnerei Markelsheim | Bad Mergentheim (Markelsheim) | Württemberg |
| Weingut Geier | Königheim | Baden |
| Stadtverwaltung | Külsheim | Baden |
| Winzerhof Haag & Martini | Külsheim (Uissigheim) | Baden |
| Landratsamt TBB | Main-Tauber-Kreis | |
| Winzerkeller im Taubertal | Reicholzheim | Baden |
| Stadtverwaltung | Röttingen | Franconia |
| Weingut Engelhardt | Röttingen | Franconia |
| Weingut Poth | Röttingen | Franconia |
| Weingut Glocke | Rothenburg o.d. Tauber | Franconia |
| Romantisches Wertheim | Wertheim | |
| Weingut Englert | Wertheim | Baden |
| Vinothek Bronnbach | Wertheim (Bronnbach) | |
| Winzerhof Baumann | Wertheim (Dertingen) | Baden |
| Weingut Oesterlein | Wertheim (Dertingen) | Baden |